Lucas Gerin

During his undergraduate studies in Toulouse, Lucas Gerin started to work with composers and playing many solo and chamber music world premieres. His master studies in Stuttgart allowed him to get to know electronic music. Since 2016, he is a member of the Pony Says Ensemble, which specialises in improvisation and world premieres. He has also been a member of the MSP duo (drums, vocals and electronics) since 2018. Lucas has played in several countries, including Germany, France, Austria, Russia, Romania, Slovenia, India, China, South Africa, Canada, and the United Kingdom, and in renowned concert halls such as the Salle Pleyel (Paris), the Berlin Konzerthaus and the Moscow Performing Arts Center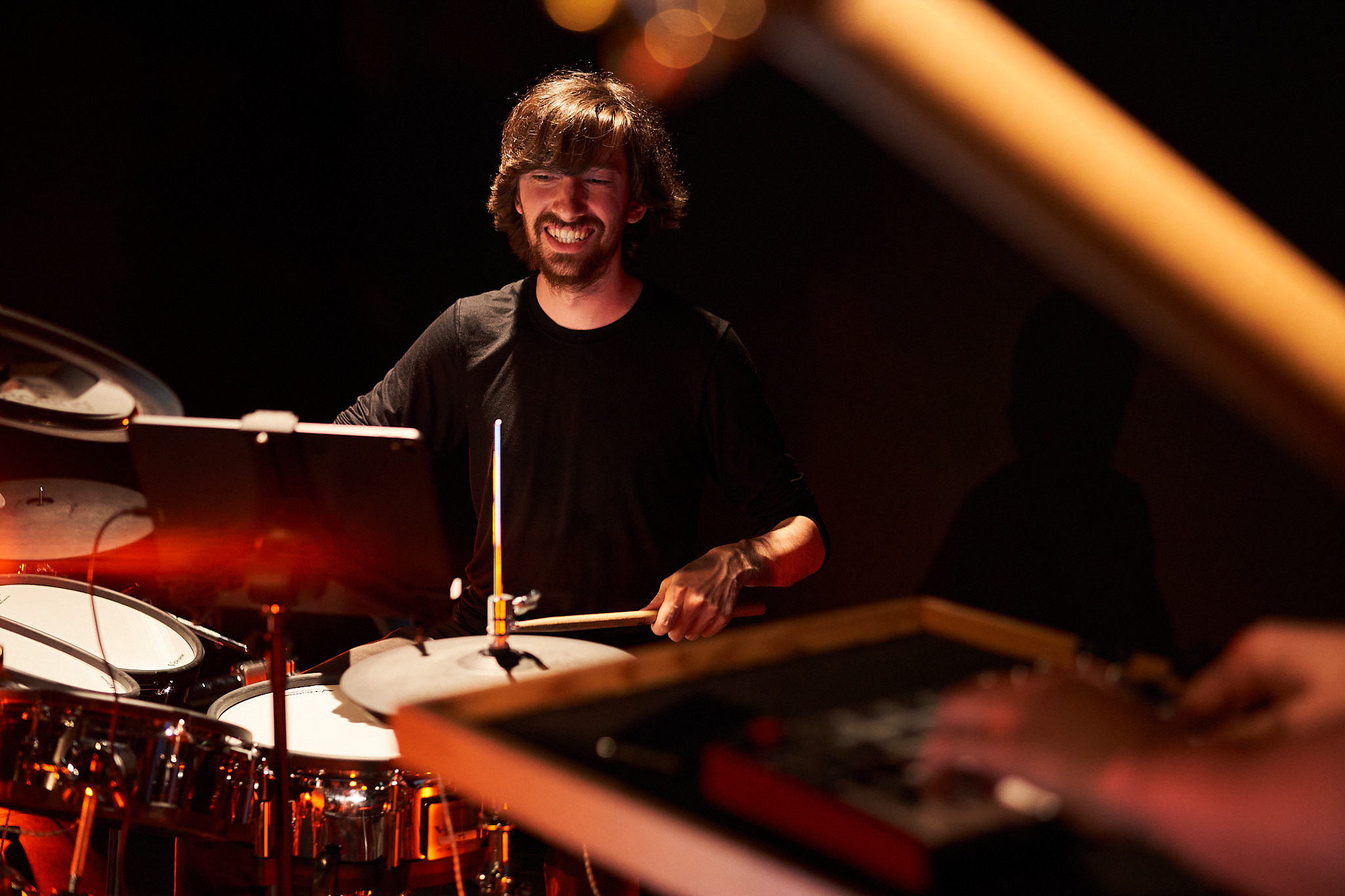 Felix Nagl
Felix Nagl (* 1991) is a pianist, performer and sound artist in contemporary music and prefers to work in the field of tension between the digital and the analog. He collaborates with artists of all disciplines to develop theme- and site-specific formats with multiple live setups (keyboards/controllers, synthesisers, analog-tapes). He performed at venues like the Festspielhaus Salzburg, Gasteig Munich, Staatstheater Stuttgart, clubs and off-spaces such as the White Noise Club Stuttgart as well as festivals such as Next-Generation Donaueschingen, Konvergence-Festival Prague, Sommer in Stuttgart, Südseite Nachts and the Fuchsbau-Festival Hannover. He is a scholarship holder of the Kunststiftung Baden-Württemberg, member of the ensembles Pony Says and y-band as well as the theater collective Goldstaub. He regularly gives workshops for experimental music and sound design.
Thilo Ruck
Thilo Ruck is one half of
AAA-AAA
, a member of
Pony Says
and part of
suono mobile
.
He is practicing toothbrush, ballpoint­pen and choreographies as thorough as guitar and effect­pedals. He sees the modern Interpreter as an artist with more than just an instrumental background, who works together with composers on their pieces and concepts and who is a factor to be considered as a person with individual skills while composing. On top of that he works on his own programs and concepts as a composer­performer. He staged premieres by Annesley Black, Jesse Broekman, Malte Giesen, Philipp Krebs, Johannes Kreidler, Thomas N. Krüger, Ui­Kyung Lee, Simon Løffler, Michael Maierhof, Nico Sauer, Julian Siffert and Davor Vincze amongst others. He played at Acht Brücken Köln, Donaueschingen Next Generation, SWR attaca, Südseite Nachts, Eclat Festival, Expo Milano 2015, Opera Frankfurt, Staatstheater Stuttgart, Zeitgenuss Karlsruhe. He is scholarship holder of the city or artists Kalbe, the Scholarship Germany, scholarship of the European Union and is supported by the society of friends of the University of Music Stuttgart. He won a first prize at the Competition for the interpretation of contemporary chamber music Karlsruhe.